Truck Fleet and Service Expansion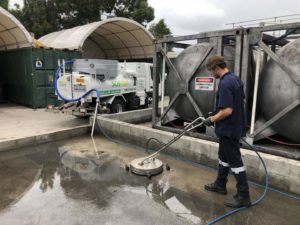 SOS Oil is a growing business, with a determination to deliver superior waste collection services in Queensland; and to do that, we always strive to improve our business operations and stay at the forefront of innovation.
To keep up with the rising demand of waste oil collection in south-east Queensland, SOS Oil also needs to maintain and grow our fleet of trucks – best serving the needs of our diverse client base.
Recently we have added a new service truck to our fleet which is the perfect addition to our collection, as this truck will not only assist with our waste oil collection services, it will also be the start of our service expansion.
Designed and modified to service hard to reach workshops and places, our new truck is a small compact unit, offering a low clearance of below two metres. As a self-sufficient unit being fitted with a water tank and in-built pressure washer, the truck is also multifunctional so that it can vacuum out the waste into the tank, while operating the pressure washer unit at the same time – perfect for bund and pit cleans.
The new truck is already in service in Brisbane and surrounding areas. These services include:
– Bund Cleans
– Pit Cleans
– Elevator Lift Pits Cleans
– Hot Washer / Jet Washer Servicing
– Parts Washer Servicing
– Oily Water Separator Servicing
– Wash Bay Cleaning
– General Pressure Washing / Cleaning
– Waste Oily Water Collections
– Waste Coolant Collections
– Waste Oil Collections
– Collections with tight access or low clearance
We hope our efforts to improve our services make them more efficient, and will ultimately reduce the disruption to your daily operations – saving you time and money in the long run.
If your business or organisation requires any of the above services, then do not hesitate to contact us for a waste collection, or a free assessment.